The Copper Kettle Refurbishment
The Copper Kettle will be closed from Monday 6th June - Thursday 9th June 2022 Inclusive whilst we do some refurbishment. We will re-open again on Friday 10th June at 0930.
Thank you for your valued support it really does mean so much to us all here at the Copper Kettle.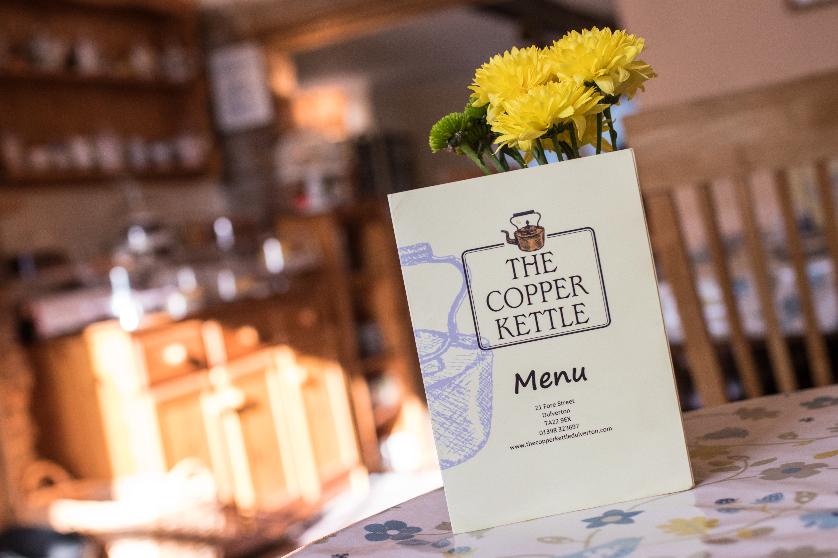 Kate and Mick Orton would like to welcome you all to
The Copper Kettle, Dulverton, Somerset
Exmoor Cream Teas
Traditional family run tea shop set in the beautiful town of Dulverton
The Gateway to Exmoor
Why not treat that someone special with
The Copper Kettle Cream Tea for 2
Each Person will be served with;
A round of sandwiches of your choice from our menu
A delicious Homemade scone with Clotted Cream and Jam
A slice of cake from our selection
A pot of Tea or Coffee
All served on a 3 Tier Cake stand
£30.00
The Copper Kettle has been successfully run for over 40 years and we wish to carry on delivering the outstanding service that has been built over this time. This traditional Tea Room in the heart of the town is dog friendly and has an expansive garden for you to relax in. Enjoy a famous Copper Kettle breakfast, light lunch, scrumptious cream tea or slice of one our many home made cakes, in fabulous surroundings.
You'll be assured of a very warm welcome so come along and join us for whatever takes your fancy.
The Tea Rooms get very busy especially at Breakfast and Lunch times so if you are planning a visit to our beautiful town then please call us to ensure we can accommodate you and your guests, 01398 323 697 and we will be pleased to reserve you a table.